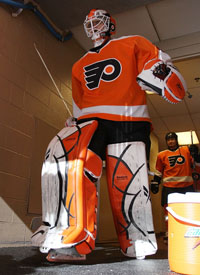 Many athletes feel performance anxiety in the opening minutes of the game. You may feel butterflies in your stomach or your heart pounding. Some athletes like to feel pregame jitters before competition. These athletes think of pregame jitters as a sign of readiness and energy. Other athletes think of pregame jitters as a sign of nervousness.
Pre-game jitters are a natural part of competing and a sign you are ready to embrace competition. Even the best athletes in the world get the jitters.   Michael Leighton, goaltender for the Philadelphia Flyers, admitted to feeling nervous before his first NHL playoff game."My legs were shaking a little bit, I was nervous," Leighton said. "Once I made a few saves, you kind of forget about that and just get focused. It kind of goes away."
The mistake many athletes make is interpreting pre-game jitters as there is something wrong or a problem.  Pregame jitters can be harmful when they don't go away in the opening minutes of the game. They can cause you to lose confidence and focus. When you're focused on how nervous you feel, you lose focus on the present task.
Athletes need to embrace the pregame jitters as  a sign they are ready to play.  Your mental game tip is to stay calm when you experience pregame jitters in the opening minutes. Stay focused on your strategy and what's important to execute.  Pregame jitters are important to help you prepare for the game and they will help you focus your best if you embrace them!
Think of it this way: the best athletes get worried if they don't experience pregame jitters!