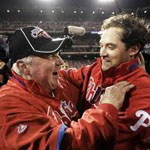 Momentum plays a critical role in your team's success. When your team has momentum, you feel like everything going for you. For example, your team can't make a bad play or miss a shot on goal. You play fearlessly. Momentum keeps your team's confidence high and helps your players find the zone.
However, momentum doesn't always go your way. Sometimes, your team can lose momentum after experiencing a setback such as the referee making a bad call or the other team making a key play. When this happens, it can be difficult to regain your momentum. When your team loses momentum, players can start to doubt themselves, think negatively, and dwell on the previous mistakes or setback. This makes it much harder for your team to regain that momentum.
What can you do when you lose momentum?
To regain momentum you have to start somewhere. Think of each inning, possession, or shift as a new opportunity for success. As each new opportunity comes along, keep a positive mindset. Have the faith that your next attempt on goal is going to turn the tide. When it comes down to is all it takes is a shift in confidence for you to regain momentum.
Once you find that you've got momentum on your side, keep playing aggressively to keep momentum. You don't want to protect your lead. Realize your aggressive play helped you get into your current position. Continue your fearless performance.
The bottom line: you'll probably experience changes in momentum throughout the game. You'll want to hang onto your momentum by playing aggressively. If you lose momentum, don't fret. Think positively and wait for the next opportunity to snatch back momentum.