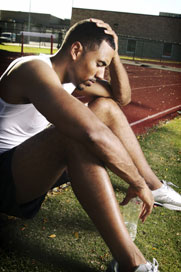 Many athletes, coaches, and sports parents do not understand the difference between confidence and expectation. In sports it is assumed that these two concepts go hand in hand – If athletes expect to win or expect to play well, they are confident they can win or play well. But this is far from the truth.
Yes, it's true that these concepts are interconnected, but not in the way most would assume – expectations hold athletes back from developing high levels of confidence. Confidence is based on the strength of the belief in your ability or how strongly you think you can win. Expectations, on the other hand, are judgments and demands that you place on your performance.
Expectations usually concern results, or personal statistics such as, expecting to get a hit every time you're at the plate. Expectations like this only set athletes up for failure because when they don't meet these demands they feel unsuccessful. But in reality getting three hits every ten at-bats is enough to make it into the hall of fame!
Strict or high expectations can undermine and suck the life out of confidence. Confidence is a belief that proceeds execcution, but is void of strict expectations or the dire need to execute. Confident athletes do not judge the quality of the performance based on prior strict expectations, results or outcomes.
To be successful you need to have high levels of confidence (based on past performance and training) without the judgmental behavior that comes with expectation. To do this you need to replace your expectations with manageable objectives that are not based on judgmental behavior.
Manageable objectives are used to help athletes focus on specific tasks during their performance. No judgments are involved. Objectives create a process-oriented focus that helps athletes concentrate on execution, such making good contact or following through on a pitch. Furthermore, once these objectives are fulfilled, the athlete will gain confidence, rather than feeling disappointed.
Use the following formula to help you develop an action plans to replace old, unhealthy expectations with new objectives that will help you focus on the process instead of making judgments about your game.
1. Identify and eradicate expectations that limit success. This is the most difficult task for many athletes because expectations have been ingrained in their performance.  Ask yourself what unrealistic "goal" you maintain for your performance before competition? In which areas do you have to be perfect?
2. Replace expectations with manageable objectives instead of "strict" and ingrained expectations. Manageable objectives help you focus attention on execution only, such as taking a good lead, hitting your target or committing to the play.
3. Replace expectations with high levels of self-confidence. When you focus on meeting your objectives in competitions you become less concerned with personal statistics and outcomes. When these objectives are fulfilled you will gain confidence, rather than feeling unsuccessful.
It is important that you do not judge if you are achieving you objectives! Even though it's rewarding to reach your goals, you don't want you to assess or judge whether you're on track during competition. If you do, you are not focused on the process. Wait until after the competition ends to reflect and evaluate on your performance.