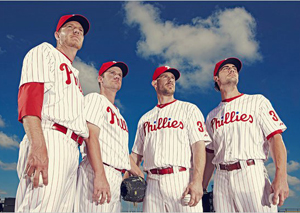 One of the most powerful and simple mental game techniques I teach to help athletes and teams improve their performance is focusing on the process of preparing for and executing each play. When athletes and teams face high expectations, focusing on end results can cause undue pressure. Pressure can cause you to tighten up, have doubts, and over-analyze your performance.
The Philadelphia Phillies have been to three consecutive National League Championship Series, and with the off-season addition of Cliff Lee expectations are as high as they've ever been for the whole team. Rather than get distracted by all the hype, the Phillies plan on making it to a fourth consecutive NLCS by using process goals to help them succeed.
The following mental game lesson was recorded during a recent interview with the Phillies starting rotation (Halladay, Lee, Oswalt, Hammels, Blanton):
"Would anything less than a World Series win be a disappointment this year?"
Cliff Lee: We've got to play 162 games to get to the postseason. There are a lot of things that we have to take care of between now and then to make sure that happens. That's what we've got to focus on. I know there is a lot of hype. Everyone expects this and expects that, but that's in October. It's February right now, so we've got a lot of work to do between now and then to give ourselves the best chance to do that.
Cole Hammels: Really all we can do is focus on today to prepare for tomorrow and let it build up to the World Series. If we're healthy and take care of business, focus on our routines, and what we need to do to prepare, we're going to give ourselves a pretty good chance.
Cliff Lee: We're focused on spring training, and preparing, and doing everything we need to do. If we do all that, we will get there. But nothing's going to be given to us because we've got a good rotation and great offense and the right people. There's a lot of things that can happen between now and then. So we need to focus on today, and tomorrow focus on tomorrow.
Roy Halladay: Obviously, like Cliff said earlier, you have to focus on the job at hand to get there, but it's definitely hard. That being said, it's my ultimate goal again this year is to win a World Championship, not forgetting about the steps that it's going to take to get there.
Process goals help athletes strive for success and cope with pressure. Theses goals  are what you  need to focus on in the present moment to play well. Process goals are manageable objectives that help you focus on small tasks.. They help you become immersed in the present moment. These goals will help you take the steps necessary to attain your short-term, intermediate, and long-term goals. Some examples of process goals are hitting 90% of your targets, or scoring with runners in scoring position.
If your ultimate goal is to perform your best in games, remember to stay focused on the process and let go of concerns about the outcome!