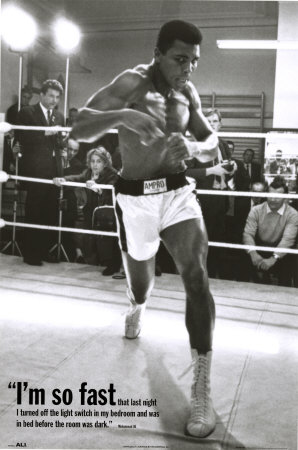 Confidence is key to success in sports and the number one asset that separates great athletes from the rest of the pack. Athletes cannot reach their true athletic potential without massive amounts of confidence in their talent and abilities. In sports confidence is defined as one's belief in their ability to execute a task or win an event. It's a mindset that says, "I can do this," but it is based on tangible things such as your past success in sports.
Most athletes will tell you that confidence comes from past success, playing well or positive experiences in their sport. You probably derive your confidence from one or more of the following three sources: practice, what other people say or do, and past performance. You can approach a task with at least six levels of confidence:
1. I hope I can perform this task…
2. I maybe I can perform this task…
3. I think I can perform this task…
4. I believe I can perform this task…
5. I know I can perform this task…
6. I will perform this task successfully…
To be fully confident you need to KNOW that you can and will perform well before you start the game or get into the match.
Once you think you have the ability to perform well in your sport, you are ahead in the game. This conviction is the foundation for building resilient self-confidence. You would not participate in your sport if you did not have the physical skills to compete.
Athletes must take responsibility for improving confidence just like they work at developing a perfect backhand, pitch, swing, stroke and so forth. The first place to start in your confidence development is to realize that confident athletes see themselves as good athletes. Confident athletes have a positive self-image and grasp positive labels to describe their ability.
Boxing great Muhammad Ali was one of the best athletes in terms of creating positive self-labels about his performance and ability. He would say, "I am the greatest" and he believed it! You don't have to go as far as Ali and tell others how great of an athlete you are, but if you can hold the belief–that is what is most important–seeing yourself as a great athlete. Envisioning yourself as a great athlete is what separates the great from the good.
Write down three positive self-labels about your sport which you can truly believe. Examples: "I'm a closer" or "I'm the fastest" or "I'm a great shooter" or any label that helps you feel confident.