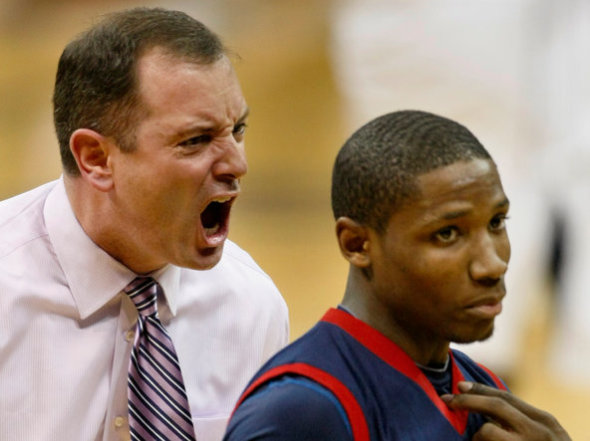 The following article is a High School Basketball Coach's perspective on Bully Coaching, in response to the example presented in "How Bully Coaching Affects Athletes."
Dear Dr. Edger,
I do not think the story of the high school quarterback is considered bullying. I understand your argument and what the quarterback might be going through. However, if a coach has time to yell or criticize a player, he cares about the player's performance, and has high expectations. I think most people would rather have a coach that has high expectations for their players than mediocre expectations. I believe it is the coach's job to challenge his athletes and as well make them feel confident. However, feeling confident is on the athlete.
Self Esteem
An athlete can be confident, and still take heat from a coach and still perform. Now, I do believe coaches must nurture their athletes well enough to make them confident but every player is different and it's on the coach to know what type of player can handle their criticism and what player can't. A good coach should study and read the body language of player after he is being criticize so next time a coach knows how to adjust and motivate a player effectively. All players are not the same, for some players a coach might have to talk softly or yell their lungs out to get the player to focus. There are many ways for a coach to motivate a player and if yelling is one of them then yelling is not wrong if makes the player perform better
I have coached high school and middle school ages and I'm currently a manager of my college's basketball team and 85% of the time the coach yells and criticizes other players in front of other teammates. Yes, this might be embarrassing for a player because he is getting chewed in front of everybody but, usually a coach does this because most coaches don't want to repeat there selves because most players make the same mistake another player makes in practice. A coach doesn't yell to intimidate players, if so that will be considered bullying. However, most coaches yell because they want to increase the intensity of practice and emphasize on particular points.
Being Negative
In addition, I think there is a fine line between being positive and negative. However, as a coach I believe it is your job to be honest and lets face it most honest comments coming from anyone's mouth is considered negative to other people and that's life. Players must understand to not listen to how a coach is saying his comments but to listen to what a coach is trying to say. So many young players focus on the tone of a coach and squeeze up if there getting yelled at, instead players need to focus more on what the coach is trying to say and the content behind his/her tone.
Practice vs Game time
Moreover, the environment plays a big factor on bullying. Players such as Bill Walton were reminded of John Wooden how he was such a perfectionist and would correct the players every minute; a study was actually done how John Wooden corrects his player every minute. Now that might make a player hesitant and less aggressive but John Wooden had high expectations and understood the concept of being a perfectionist during practice. John Wooden wasn't the nicest coach in practice but he still carved out great success from his players. More importantly, if a coach is being brutally honest in practice he has a right too because it's practice it's a classroom setting where players need to listen and learn.
When does a coach's behavior become bullying?
I believe a coach bully's players when he embarrasses a player in one on one conversation or when a coach attempts to embarrass or intimidate a player to people who are viewers outside of the team such as fans. For example, if a coach consistently scolds a player only on game day and not in practice I will consider that bullying. The best time to scold a player is during practice because a player has time to correct his technique but scolding in a game may give him a decline in his performance depending on how mentally strong the player is.
Conclusion
Overall, I consider bullying a consistent behavior where a person attempts to lower a person's self esteem, trying to make one person feel recessive in any way whether it's joking around, being physical or providing rude comments to a player.
Article by Michael Evien, High School Basketball Coach and Head Student Manager for Men's Basketball at San Jose State University.
A note from the editor:
Bully Coaching and bullying in sports are controversial topics in need of further debate, and evidence based research in the field of Sport Psychology. We encourage our readers and authors to share their opinions in a productive manner that adds to the context of the issues being discussed. A response to Coach Evien's article will be published shortly. Our staff at Sport Psychology Today  thank Coach Evien for sharing his thoughts, and providing our readers with a coach's perspective on bully coaching.