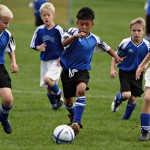 A youth football team or soccer team as well call it in the states, has called in a sport psychologists to help their young athletes gain a mental edge over their opponents.
The Edinburgh team has developed Scottish internationals like John Collins and Kenny Miller in the past, but some parents have questioned the club's extreme measures.
The club defended the move and said that suitable discussions were held before bringing in the psychologist.
"We spoke to the parents first about using performance psychology and they've been very supportive," said club leader Tam Smith.
"It's about creating positive thinking as opposed to some of the negativity that can come from the parents on the touchline.
"It's a modern way of thinking and we're looking to create the right kind of atmosphere at our club."
The teams sessions include character building, identifying strengths and using them in a positive way, dealing with pressures, self-talk, performance profiling and goal setting, communication, understanding roles and team building.
To read the full article go to: