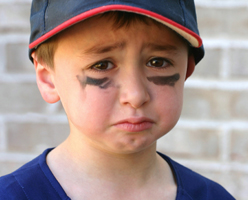 Parents should not make assumptions about their kids' behavior in sports. You might feel your child is not trying hard enough, is a poor sport, or maybe even takes the game too serious. When your kids appear to be struggling with their performance it is important that you communicate with them to identify the root of their behavior.
For example, as a young athlete I held high expectations for my performance. These high expectations became strict demands that I needed to meet each game, such as going 4-for-4 at the plate. When I made a mistake or failed to meet these demands – I lost composure easily, directing my frustration towards teammates, coaches, and even spectators.
Of course this limited my performance as well as my teams. I was unable to focus, concentrate, regroup, and most importantly – have fun. My parents and other parents just assumed I was a poor sport, or a sore loser. Sure this may have been the case at times, but the real issue was with how I approached the game – with an all or nothing, perfectionist mindset.
If your kids appear to take themselves or their heads out of the game, try to understand if they are struggling with one or more of these classic "mental game" challenges:
1. Fear of failure that causes excess tension. Most young athletes want to perform well and may be too focused on not making mistakes. Kids who focus on not making mistakes tend to over control their performance or try too hard. Trying too hard results in too much anxiety about the outcome of the game. Kids become tense and play tentatively, which hurts their performance.
2. Frustration over failure to meet high expectations. Your athletes may have high expectations for themselves–such as making every free throw or winning every game. These high expectations can set kids up for failure. Kids either achieve their expectations or they don't. Most of the time these expectations are too high and young athletes have a hard time reaching them, which makes them frustrated.
3. Giving up when all hope of winning is gone. Parents may assume that their kids do not care about the game if they give up –or stop trying–in competition. When kids lose, their self-esteem can suffer. Mailing in matches may be a way to protect self-esteem. These athletes may also lack trust in their abilities.
4. Social Approval or being worried about how other view their performance. Kids may feel pressure to meet the expectations of parents, teammates and coaches. This causes them to judge their performance, and make assumptions about other perspectives. For example they may think, "If I strike out coach is going to bench me" or "If I make an error Dad will be embarrassed." Your young athletes are in tune with how they are perceived by others.
These are just a few of the most common challenges that affect athletes behaviors in game. Before you make assumptions about your child's game, be sure to think about these challenges and try to understand if your athlete is struggling with one or more of them.