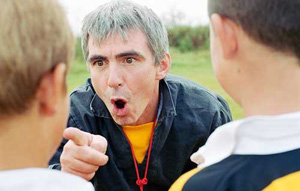 Young athletes are bullied by coaches as well as peers, which is unacceptable in youth sports. Have your sports kids ever had a coach who yelled at, insulted or intimidated them? If so, you need to take action. We've got some tips—and warnings—for you about what we call "bully coaches."
Bully coaches target all kinds of young athletes. They can set their sights on kids who are overweight, small or who lack confidence, for instance. These coaches also target gifted athletes because they believe their approach will "toughen up" their athletes.
Whether your athletes are underdogs or stars, your job as sports parents is the same. You want to ensure that if your athletes are teased, excluded or otherwise treated badly, by coaches, keep their confidence intact, learn to stay focused under adversity, and don't drop out of sports. The bottom line, for you as parents, is to watch out for bully coaches and to arm yourself with the information you need to take action.
You, as parents and coaches, can do a lot to help kids who are bullied by their coaches visit Mental Edge Athletics for free tips on dealing with bully coaches in sports. You will learn how to identify the characteristics of a bully coach, and how to stand up to coaches who put your athlete's confidence, focus, self-esteem, motivation, and enjoyment of sports at risk.
Related Articles on Bullying by Sports Psychology Today: