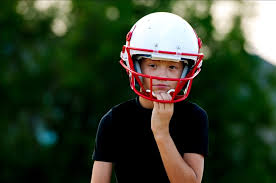 When Favoritism Hurts – Can youth football have a negative psychological effect on a young child?
Imagine your 10 year old boy, turning around and looking up at you from the sidelines, during his very first Youth Super Bowl Championship game…. With a red face and angry tears, he yells out at you in a plea of desperation "MOM! We're going into overtime and the coaches won't let me play!!!"
This is exactly what happened last Sunday. I noticed in the 3rd quarter that my son, had not been called for a single play and began to get antsy. By the middle of the 4th quarter I had made my way down to the bottom level, grabbed the attention of one of the coaches and asked why my son hasn't been rotated in for a single play-being that the game was about to end? (Score was still 0-0 at that point.) The coach blew me off, saying "Ma'am, I'm not the one calling the plays."
I was both raging for my son's pain and fearful for the damage this may cause him in the long run. Fact of the matter is that there were at least 12 "coaches" (for his team ALONE) out on the field that day. I guess each one ensuring his boy was given his right to glory at this pivotal game in their child's NFL career. It's a classic Good-ol-boy partnership where the coach-fathers ensures their boys are pulled aside for "special training" during practice and shown diverse plays and later call upon those boys, exclusively, during the games, with their defending reasoning: "these are the boys that know the plays." The rest of our boys, talented or not, remain and are treated as "fluff." Regardless, when my son says, "We won 36-0, but I only got to play 3 times," I exclaim, "Who cares! You're part of an awesome team and those 3 times you played, you DID GREAT! I'm so proud of you!"
According to my son's youth football league, their motto stands upon "putting God first," instilling "good Christian values," and their goal is "to provide a memorable and positive experience for players, cheerleaders, and parents, alike." This season has been far from a memorable and positive experience for our family, who would have never signed him up had we known it would lead to the crushing of our young child's spirit… and for no good reason, at all.
This situation is especially hurtful as I am disabled and have a degenerative disease that causes me great pain. Football has been this little boy's only escape from having to see and deal with his mommy's continuous suffering, which has been progressively getting worse. This came at a time when my boy had finally found true joy in the game.
Although, my son has been playing football since kindergarten, he has only shown a genuine interest and effort, this year. He finally became ALL about football–knowing the talk/the positions/the plays/and pretending he's a pro on Madden NFL. I love watching him talk "sports" with his buddies, like little grown men.
Unfortunately, his entire demeanor has changed since the last game on Sunday. His teacher has told me he was completely silent and downcast the entire next day, also noting that she has seen his interests and efforts drop following the ordeal.
On SportsPsychologyToday.com, Dr. Edger discusses the effects of bully coaching on young athletes and the potential threats this outdate coaching approach poses to a young athletes and their sports experience.
"A large majority of the coaches who use this approach are volunteers who lack the appropriate level of education and training needed to work with young athlete. They have an unwarranted belief that fear and scare tactic are good motivators to improve athletic performance, and as a result they are completely oblivious, naïve, or for use of a better term, ignorant of true effects and the potential  damage they cause."
"Youth coaches are critical to kids' sport experiences. They can influence whether young athletes enjoy sports and want to continue playing. Some coaches can get kids excited about sports, while other coaches may discourage kids or take the fun out of the game. A good coach can keep kids' interest in sports alive."
"When athletes are being bullied, and singled out by coaches they begin to have doubts about their ability to perform which cause them to question their role in sports."
"Bullying can hurt an athlete's confidence–in and out of sports."
While I'm not claiming that my child was mistreated, he definitely was singled out, excluded, and made to believe that the reason the coaches' kids get to play and have all the starring positions is because he is not good enough. He doubts himself now, and has lost interest in trying other things (never-mind the reality of favoritism that exists on his team regarding the coaches and their sons).
While I do not know if my son will play next season, I can only hope that this let down will not hold him back. As of right now, my little boy continues to paint a smile on his face when he looks at me, but, as his mother, I see there is a fixed sadness in his eyes, and this tears me to shreds!
My boy was so proud to go undefeated all season and had his little heart set on playing the Super Bowl in the "big stadium."  How could the narrowmindedness of grown/adult men have overcome and trampled on a little boy's dream, completely robbing him of his day?
Much as I did, standing on the edge of the field at that game on Sunday, I feel powerless, not knowing how to help my son and keep this from happening again… to him or other children in the league.
Article by Celeste  – A Concerned Sport Mom.