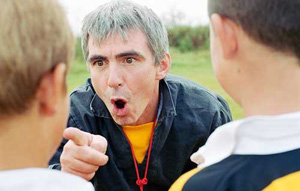 As a sports parent it's your job to ensure your child is in good hands. First of all, our warning. Coaches who teach by being negative or intimidating can really hurt your kids' confidence and enjoyment of sports. No, these coaches do NOT toughen up your young athletes, as they might insist. They don't improve kids' performance, either.
Bully coaches often tease, yell at, humiliate and intimidate kids. Parents should never under-estimate the importance of coaches in their kids lives. Coaches can boost or undermine kids' confidence and self-esteem.
Coaches who bully—either with harsh words or physical harm—can hurt young athletes' self-esteem, undermine their social skills and make it hard for them to trust. In some cases, these coaches can make kids feel anxious and depressed.
What's more, coaches who use such negative feedback are generally focused too much on one thing: winning the game or competition. They give kids the message that winning is everything. That makes kids focus too much on outcomes—such as the score or win. It can prevent them from reaping the social and emotional benefits of taking part in sports.
Learn more about Bully Coaching at Kids Sports Psychology