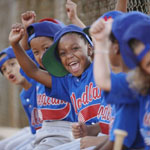 What is self-motivation?  Athletes who are self-motivated take part in sports for the pure enjoyment of it.  They do not need rewards to participate.  To succeed in your sport, it's important that you love to play or perform. It's not a good idea to take part in sports because you want to make others happy–your parents, coaches or peers, for example.
When you have a real passion for the game, you'll have more staying power and feel more committed to sports over time. Dan Coyle, author of the book, "The Talent Code: Greatness isn't born. It's Grown," says passion works in your brain like rocket fuel. It makes learning fast and fun.
In addition to playing because YOU want to play, you should learn how to set your own goals. This will help you improve faster. Your parents or coaches can help you set goals, but your goals should be YOUR goals and not ones that others set for you. You'll have a better chance at reaching your goals when you create them and commit to them.
Sports psychology research shows that "external" rewards—rewards that come from the outside, rather than from what's inside you—don't help sports kid with self-motivation. If kids play only to get trophies, medals, money or other external rewards, they'll be less motivated when those rewards aren't offered to them. In other words, it's a bad idea to play sports just to get trophies, medals and other prizes.
The key to being self-motivated is to focus on what excites you about playing and performing. You might play sports to be with friends, be part of a group, for the competition or to gain social support.
One way to help you become more self-motivated is to set goals and stay committed to reaching your goals. You can do this is by creating and signing a commitment contract. A commitment contract is a written statement or series of statements that you promise to follow. For example, you might include in your contract, "I want to improve my backhand shot, and will work on this at least two hours a week."
These statements can identify your personal or practice goals. Have your parents or coach sign the commitment contract to help you monitor your progress. The contract should be placed somewhere you can see it–a bedroom or kitchen, for example–so you are reminded of your goals each day.
Setting goals is critical to your success as athletes in both sports and life.  It's important that you stay committed to evaluating and changing your goals when needed. You may find that you've reached one goal, and now need to set a higher goal. Or you may find that the goal you set wasn't reasonable, and you need to aim for something a little easier.