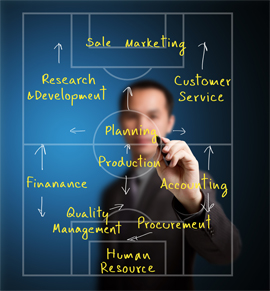 Sports Psychology and Business Psychology are similar fields in that they both aim to help individuals reach their peak potential on the field or in the workplace. Executive coaching is designed to help facilitate professional and personal development to the point of individual growth and improved performance. Sport Psychology Expert and Industrial/Organizational Doctoral learner Michael J Edger MS, MGCP apply performance enhancement techniques proven to facilitate performance enhancement to the work place to help business professional succeed in their industry.
Sport Psychology Consultants and Executive coaches need to have a strong understanding of individual differences in a work place as well as the ability to adapt their coaching style or strategies. Many executive coaches have a specific area of expertise: sports; business or psychology. Our team at Mental Edge Athletics and SportPsychologyToday.com combined these areas of expertise to build an efficient model of Executive Coaching proven to facilitate success on the field and in the workplace.
Executive coaches work their clients towards specific professional goals. These include career transition, interpersonal and professional communication, performance management, organizational effectiveness, managing career and personal changes, developing executive presence, enhancing strategic thinking, dealing effectively with conflict, and building an effective team within an organization.
The case for executive coaching is that it's working. Understanding why it works and learning how to use it, is helping executives be better at their jobs and it's saving companies a ton of money. In 2004 the Harvard Business Review, reported that Executive Coaching is a $1 billion industry. In certain countries as much as 88% of Companies use coaching. A few years later, it seems that it's not slowing down any time soon.
High-potential individuals and those needing to improve their leadership or management skills are often asked to seek out the services of an Executive Coach to improve performance and obtain their performance goals. In years past successful individuals surrounded themselves with people who could help them achieve their goals. Mentors, teachers, parents and counselors have historically been instructing us in the art of living and working.
Today, coaches are most recognizable in the area of fitness and sports as well as in the arts, helping amateurs become peak performers. However, it is a relatively recent development to find coaches in the business arena. Executive Coaches are helping people fine-tune their skills, both personally and professionally.