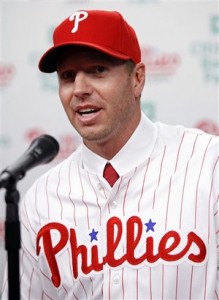 Philadelphia Phillies' ace, Roy Halladay made history in his postseason debut hurling the second no- hitter in Major league postseason history against the Cincinnati Reds. Halladay also threw a perfect game earlier in the season against the Marlins, making him the first pitcher in MLB history to throw a perfect game and a no-hitter in the same season.
"It's an unbelievable feeling," said Halladay in a postgame interview, "This is why I love the game."
When asked how satisfied he was with his postseason debut Halladay responded, "Complacency is something that can make you peak. If you can avoid that, you'll always feel like you have something else to reach for and go for. As long as I can avoid that feeling of being happy with what I've done, that's the fun part."
Before the game it was just another day at the ballpark for Halladay, "you try and disconnect yourself, I think, from the emotions a little bit. Knowing that you've prepared yourself, you're ready, and you try to go out and execute your plan. I think once the game started, I got out there and I felt like I was able to do that. I wasn't thinking about all that stuff, first playoffs or any of that. It was go out and try and execute a plan, and that made it a lot easier," said Halladay.
Leading up to a big game, many athletes begin to feel nervous and anxious which can distract them from committing to their game plan, and what they need to do to execute. But Halladay views big games as a challenge that he looks forward to rather than getting caught up in the playoff hype. "Excited, I guess, is a better word to describe it than nervous. I was excited. It was a lot of fun to look forward to pitching in this game," said Halladay. If you feel anxious, or worried about the challenge it will be difficult for you to play freely and relaxed. When you embrace the excitement challenge of a big game you are more likely to have fun, play with confidence, and focus on the process, rather than end results.
This approached helped Halladay focus on one pitch at a time rather than dwelling on throwing a no-hitter. His objective was to focus on executing each pitch, which allows him to let go of thinking about results and records. Result-orientated thinking leads to worry about failure, performance anxiety, distractions, and loss of confidence.
"I think just try to execute pitches, it wasn't even outs. I think if I can keep my focus on just making the pitches, not worry about the outs, try and stay aggressive and make quality pitches. I think the rest will come. If you're not putting too much emphasis on trying to throw a no-hitter, you're going out and staying aggressive, it makes it, like I said, a lot easier," said Halladay.
In the late innings of Halladay's performance, his chances at history became evident at Citizens Bank Park, by the crowd roaring with every out. The atmosphere alone was enough to make any pitcher feel the pressure. When asked about his mindset throughout the game Halladay responded, "Yeah, I was definitely aware of it, knew what was going on in the fifth or sixth inning. After that I was just trying to stay aggressive, make them put the ball in play, don't beat myself up and trying to keep that focus on what was going on in the game. I think throughout the whole game though, it's definitely not something you're trying to do. I think as soon as you try and do it kind of takes you out of your plan a little bit."
It is going to be difficult for Halladay to match his first ever postseason start, but he has the right mindset going into his next game. "I'm just going to try and win. It was a lot of fun to go out and win a game like that and know there's more to come for us and more to accomplish. So that makes it a lot of fun," said Halladay.
"It really is about the team for him," said Phillies GM Ruben Amaro. "He truly believes in 'we' rather than 'I,' when you talk to him about his personal accolades, I think he's almost embarrassed by it." This approach help Halladay focus on the team's goals rather than personal goals.
"The best part about it is when you're out there; your only job is to help your team try to win the game. And if you can keep that focus off of yourself, on the team, trying to help, it makes your job a lot easier. As you know winning is a team event. To be successful in a team sport like baseball it is important to focus your team's first. Personal goals are also important, but team players understand that their own success can only be measured in regards to their team's success.
Tips for Breaking Performance Barriers
1. Focus on one play or task at a time and let go of results.
The ability to concentrate in the present and keep focused on the task is very important to achieve peak performance in any sport. Focus on the important cues and disregard information that is less important such as the outcome or results. When an athlete focuses on possible future outcomes, he's distracted to what's going on in the present play, shot, or routine.
2. Focus on what you can do for the team, not individual records.
Your team's success relies on your ability to understand and accept your roles. Team players focus on what they can do to help the team achieve their goals before focusing on individual statistics. In order for a team to succeed, they need to work together as a team and help each other when needed! The individual that make up a team can come together and be more powerful than its parts.
3. Let go of judgments about your performance and focus on the next play
Stats are important to monitor your progress and help you reach your goals. But, stats can also be a distraction or lead to pressure. If you judge your performance (or the last play) during a game, you can become less focused on what's important — the team's performance! Use your routine to help you focus on the next pitch rather than focusing on what just happened. You'll be better able to become fully immersed in the present task and avoid making judgments about your performance.
4. Feel excited instead of nervous when you are performing well.
Being nervous or focusing too much on uncomfortable feelings when you are performing only heightens the tension. Embrace the challenge when you are performing well, feel excited to play, and stay committed to your plan. When you feel nervous, it's important to accept that your body is telling you that you are prepared to perform. This way you'll find the right zone of intensity or excitement that will help you perform your best.