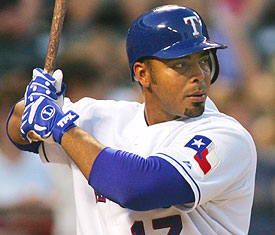 In his rookie season professional baseball player, Nelson Cruz lacked discipline and patience as a hitter. In the minor leagues, Cruz was a standout player, but he struggled at the plate more often than none. "I didn't have the patients to be a successful hitter," said Cruz, "I now know that whatever the situation, I have to stick to my approach, be patient, and make the right adjustments at the right time." With his new approach, Cruz began the following season with a 14-game hitting streak, five home runs, and a .391 batting average.
The saying "patience is a virtue," stands true in sports. The quality of being patient is an ability or willingness to suppress restlessness or annoyance when confronted with delay. Patient athletes display composure, perseverance, and diligence in their performance. Self-control is an asset in sports because it makes you better, and it helps you make the right decisions at the right moments.
How many times in sports have you jumped the gun and afterward realized it would have been better if you were patient? You will find that by being a little more patient things will work out better hence the saying, "all good things come to those who wait."
Two-sport Hall of Fame athlete Bo Jackson recognized that to be successful in baseball and football he had to be patient. "Baseball and football are very different games. In a way, both of them are easy. Baseball is easy if you've got patience, and football is easy if you understand patience," said Jackson.
Patience is not only an asset for players it is also what coaching and being a sports parent is all about. Sport parent and successful youth football coach Ken Clarke advises coaches and parents to be patient. "You have to be patient, and repeat yourself many different ways. We call it, "chalk, talk and walk." We have to sort of write it out for them, then explain it and then show them how to do it -several times. Especially with younger athletes. It's hard for them to understand really complex things," said Clarke.
You can practice patients on and off the field. By doing so, you will find greater success in the face of adversity and pressure. Professional Golfer Gary Player states that, "Patience, practiced correctly, is a powerful mental tool that unlocks so many other positives and that will also give you the kind of perspective other my lack under pressure."
The following are tips to improve patients for coaches, parents, and athletes:
1. Learn to relax. Developing patience takes time because requires you to change your attitude, but you can immediately make progress by learning to relax. When you feel impatient, stop take a deep breathe in through your nose, and out through your mouth. Notice your perception of the event and see if you can make up a different one that reduces your impatience.
2. Identify triggers that often influence you to lose your patience. To reduce the frequency of impatience you must be aware of it. Sit down and make a list of things that cause you anxiety, tension, or frustration in sports. This will help you recognize when you're being impatient, so you can take a different approach.
3. Reflect on what occurs when you are impatient, and notice the emotions that are present in these situations. What changes can you make to reduce your level of impatience? Being aware of your impatience also gives you a chance to learn from it.
4. You may have a goal or a plan is taking longer than you want it to. Rather than focusing on the obtaining your goal quicker focus on the process of successfully obtaining your goal. Remind yourself that things take time. This will help you move on if you can't do anything about it, and direct your focus to what is occurring in the present moment.
5. Prepare for the unexpected. The unexpected occurs all the time in sport like injuries, changes in weather, and losing an upset. Things don't always work out as planned. Accept the twist and turns in sports with poise. Keep your expectations realistic and remember nobody is perfect.