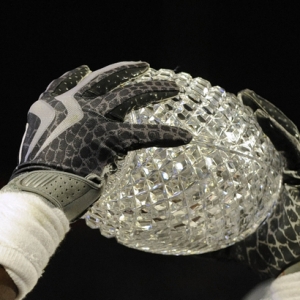 All the hype and distractions leading up to a big game can be overwhelming for athletes, coaches, and even parents. In order for athletes to perform their best when the stakes are high they need to avoid:
1. Getting caught up external distractions
2. Conjuring up self-limiting internal distractions
External distractions can become a challenge for some athletes. Worrying about the expectations of others, personal relationship, your opponent, school, and the media are all examples of external distractions. They distract athletes from focusing on the steps they need to take to achieve their mission.
However, the most harmful distractions athletes face when preparing for a big game are internal distractions…
Internal distractions come in many forms such as negative thinking, doubt, dwelling on the past, or getting ahead of yourself by thinking about results. Athletes create these distractions for themselves (often unknowingly) which makes them more harmful then external distraction.
For example, if you dwell on an error or mistake you made early in the game it will distract you from playing in the present moment. Or, if you are playing the Cougars in the championship and their ace dominated your team earlier in the year you might have doubts that this game will be any different.
How can you cope with distractions prepare mentally for a big game?
One mental key is to stay focused on your own plan and not get caught up in external distractions. Athletes should focus their energy on preparation and their game plan. If you let yourself get too caught1` up in the hype leading to an important event, it will distract you from your performance objectives. This is easier said than done, so athletes need a back-up plan to help them cope with distractions.
We teach our athletes to use 3 R's strategy to help them identify when they are distracted and get back on track. By using this strategy athletes are able to:
Recognize when they are distracted or distracting themselves from their objective.
Regroup and zone out the distraction.
Refocus on the game plan and the steps they need to take in order to succeed.
First, RECOGNIZE that thinking about the media coverage, who is pitching, who the referee is, other's expectations, and results aren't going to help you prepare for the event or achieve your performance goals.
Next, REGROUP by letting go of the distraction and reminding yourself of your objective.
Finally, REFOCUS by asking yourself what your need to focus on to prepare and perform well. In the days leading up to the big game concentrate your mental preparation. During the game use performance cues and triggers that help you perform such as "bases loaded, infield up" or "third and long, watch for the pass."