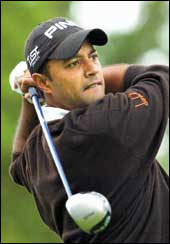 Many athletes feel pressure when they have high or strict expectations about how they should perform. Expectations are what you demand of yourself during competition. They are usually about obtaining a certain result (score for 18 holes), game statistics (number of goals in a game), or quality of performance. They often cause you to judge your performance based on predetermined expectations.
PGA Tournament Pro Arjun Atwal went into the Wyndham Championship at Sedgefield Country Club in Greensboro, N.C., with no expectations and nothing to lose. He had no playing status on the PGA Tour. "Guys are going to be out there trying to secure their FedEx Cup spots. We've got nothing. I don't have a card. I don't have anything. Just go out there and free-wheel it, and that's what I did this week," said Atwal.
For Atwal, playing without expectations allowed him to play relaxed, confident, and aggressive golf – free of limitations about what he's supposed to do or how he should play. He finished at 20-under 260, and became the first Monday qualifier to win on the tour in 24 years. Having nothing to lose allowed him to play freely and go for it: "I didn't have any expectations. I told my caddie, 'We've got nothing to lose this week. Let's just go out there and try and win it," said Atwal.
Your strict or high expectations can undermine confidence and hurt your performance. When you don't achieve your expectations you will most likely become frustrated and lose focus. "I hit some bad shots but didn't let it get to me… I know everyone is going to make bogeys in tough conditions. When you want to throw in the towel, you've got to remember that," said Atwal.
Many athletes expect to play perfect and not make mistakes, which are not rational expectations. Atwal was able to let go of his mistakes and keep his composure during competition because he didn't expect to play perfect. I teach my students to replace harmful expectations with process goals or small objectives to help focus their minds on execution only. Process goals will help you focus on the small tasks you need to do in the present moment that will help your perform well.
Here are three steps for dealing with these strict expectations:
1. Identify strict, overly demanding expectations.
2. Recognize that these expectations are unproductive.
3. Replace these expectations with manageable objectives to help you focus on the process instead of outcomes. A process goal would be to complete good passes, for example.
Your expectations are strict rules you make about your performance in disguise. With expectations, you constantly judge how you are doing compared to how you think you should do. They create a very result-oriented focus. Leave your expectations at home and bring a full tank of confidence. You want to play with confidence. Confidence is a belief in your ability, which is not judgmental. Confidence must to be sturdy when you are under pressure so you can stomp out any doubts about your ability to finish strong.