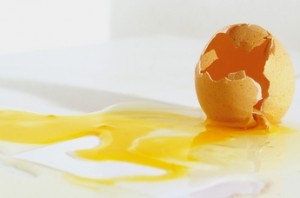 The TENNIS BALL or the EGG. Who do you choose to be?
It doesn't matter that my presentation today was to a room full of young women who happened to play volleyball. The "lesson" I chose to share today was wrapped up in three (well, maybe four) , very unassuming words:
"tennis ball or egg." For it was in the answer to the question "Who do you want to be, the tennis ball or egg?" that could leave anyone to ponder.
This team of girls had noticed that when they made a mistake they lost their minds, so to speak. They actually didn't say that exactly, but I surmised that from what they wanted to focus on during my time with them.
So, I asked them, "When you make a mistake; when you miss a serve or "shank" a pass, or get blocked by the other team when you're going up ready to hit away: are you going to bounce back like a tennis ball does (insert me bouncing the yellowish-green hued tennis ball, then catching it) OR are you going to crack like an egg? All eyes watched as I smashed an egg to the ground. Its inners oozed their way out of the cracked shells. Here, I need to let you know that I did this with the egg inside of a sealed plastic bag.

And here was the lesson. Everyone got that they participate in the "mistake" by what they say in between their own ears. If they eye roll, judge, and not believe in the player who made the initial mistake, then they, too, are participating in the downward cycle of their team's demise.
How often, in our own lives, do we have opportunities to be the tennis ball or egg? In my own life, I think I deal with this on a daily basis. It's just not in my DNA to be the tennis ball always. Sometimes I just want to be the egg and then shore up in between the covers with my head on the pillow. Life, however, has taught me that there are way too many blessings I would be missing if I didn't seize the opportunity to be that tennis ball. I implore you to do the same.
Go be that tennis ball.
*This exercise came from John White, AD, Wheat Ridge High School, CO.
I read this because of my brother, David, who thought of me and my work with athletes. He bounced that tennis ball on my behalf as I read about John White's work (in a book entitled, "Peak Performance PlayBook.") And here I am, with a very happy heart, feeling grateful that I was able to share this with those young minds, and now with you.
About the Author:
Lisa Pedersen, LCSW, is a licensed psychotherapist who has been mentoring clients in the birth and sports worlds for over 20 years. She believes by finding your "zone", you are then able to achieve the best outcome. Lisa welcomes the opportunity to share her knowledge in these two worlds that she is most passionate about. Visit Lisa's website Mindful Beginnings for more information!