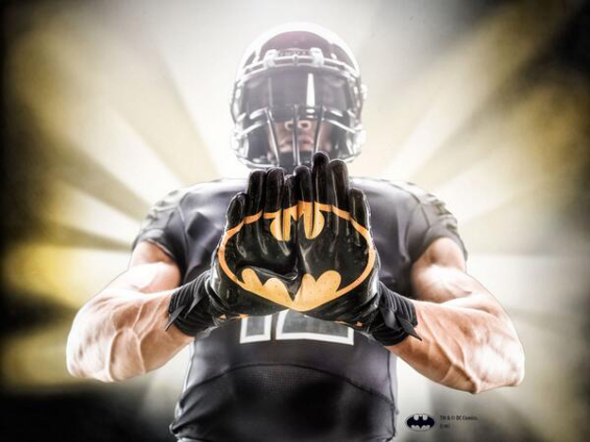 What do Batman and Student Athletes have in common?
Waking up for early practices, film reviews, team meetings, games, homework, classes and study hall.
This is the world of a student athlete.
The student athlete must be a scholar, an athlete, a teammate, a friend, a hero, a coach, a brother or sister, son or daughter and even a role model. Now what does Batman have to do with any of this, well everything.
Student athletes fight bad guys (opponents) when they are in competition, have powers (athletic ability), costumes (uniforms), a city (or institution) to defend, and people count on them for many different needs (i.e. coaches, teammates, fans, etc.).  But the most prominent trait that a student athlete shares with any caped crusader or masked avenger is that they live a double life.  And like their heroic counterparts athletes' personal lives sometimes get blurred in with their athletic lives.  In many cases one cannot exist without the other.
In the 2005 Chris Nolan film "Batman Begins" Bruce Wayne is constantly trying to balance his personal life of a multi-billionaire CEO at day and crime fighting vigilante at night.  Much like the Dark Knight the student athlete must take on multiple roles.
With so much depending on the athlete like having to perform in games while maintaining the required GPA and wondering if that girl in your chemistry class likes you can be a daunting task.  Prioritizing and differentiating what is important can make it difficult to choose where they truly belong.
In sport psychology athletic identity is defined as how an individual identifies themselves with the role of an athlete's.  For some this is simple, playing a sport doesn't define who they are, if their career ended today the athlete would be able to cope and move forward with their life with no problems.
Unfortunately, many other student athletes invest their entire life into sport and it's all that they know.  However, this can be a major weakness, an athlete's kryptonite if you will.
The severity of high athletic identity can be very detrimental to the athlete later in life.  It has been found that athletes who spend most of their life fully invested in an athletic role may not be prepared for their future in the real world.  This maybe disheartening to many young aspiring student athletes, but the numbers say less than 1% of athletes will make it to a professional level.
This is why there is a need to dissociate an athlete's identity from being 100% invested in sport.  From a mental health aspect, athletes who have high athletic identity have esteem issues when sport activity didn't go as planned.  These hindrances were taken as a threat to their self-worth and led to a rise in depression.
Student athletes may not have super powers or cool lairs but they work very hard to help not only themselves but also many others.  More needs to be done to help them handle the life of a student and an athlete so they can be the real life heroes that the world needs.
References:
Proios, M. (2012). ATHLETIC IDENTITY AND ACHIEVEMENT GOALS OF GYMNASTICS ATHLETES. / ŠPORTNIKOVA PODOBA IN CILJI USPEŠNOSTI TELOVADCEV. Science Of Gymnastics Journal, 4(3), 15-24.
Ray, R., & Wiese -Bjornstal, D. (1999). Psychosocial Dimensions of Sport Injury. In Counseling in sports medicine. Champaign, IL: Human Kinetics.
Van Raalte, J., & Andersen, M. (2007). When Sport Psychology Consulting Is a Means to an End(ing): Roles and Agendas When Helping Athletes Leave Their Sports. The Sport Psychologist, 21, 227-242.
About the Author: Nicholas is a graduate student studying Sport and Performance Psychology.  He has a background as a former collegiate athlete, strength and conditioning coach, educator and mental conditioning coach.  With his eclectic array of skills Nicholas can contribute to the field of sport psychology from several aspects.  His focus is on peak performance, choking under pressure, stress exposure training, psychology of recreational exercisers and the social aspects of sport and performance psychology.  Nicholas looks to contribute much to this respective field from his view as a performer and practitioner.
Twitter: MrMentalMuscle