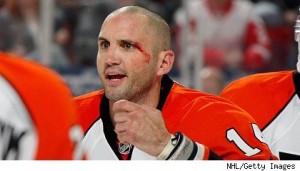 One thing every NHL team needs is a tough guy or enforcer ready to take hits, give hits, and intimidate their opponent. The tough guy provides his team with energy, momentum, and confidence. Ian Laperriere "Lappy" of the Philadelphia Flyers is recognized as one of the top tough guys in the league.
When asked about his mental approach and preparation for sports toughest game he stated, "I have always been a physical player. I am not afraid to challenge my opponents and be as good as I can be on a nightly basis."
Players like Laperriere are tough physically, as well as mentally. He has the ability to perform on the ice with a mindset to play as hard as he can. He becomes a major distraction for other players. "I do this by getting in their face and letting them know if you're going to play against me tonight, and you're expecting to have any success, there is going to be a price you have to pay," Laperriere said.
Laperriere's desire to play as hard as he can influences his teammate's mindset and encourages them to match that same level of intensity each night. "Lappy becomes the heart and soul of your team by the way that he plays," said former teammate Luc Robitaille. In high performance sports like hockey, the players feed off each other's energy, and players like Laperriere are ready to set the tone.
Team enforcers are confident in their ability to stand toe to toe with the best in the league on a nightly basis. To help boost your team's confidence and mental toughness be prepared to give full effort each time you perform.
A team and fan favorite, Laperriere has fit in perfectly on a Flyers team with a history of physical punishment. Laperriere was second in the league last year in fighting penalties and shows no signs of giving up his status as one of the NHL's top tough guys.