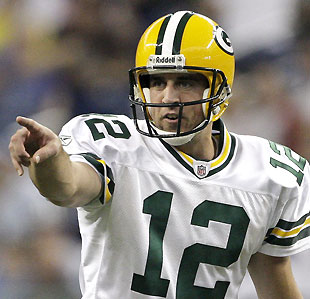 Many top quarterbacks are praised for their physical talent and abilities. In college and the pro level, most athletes possess a lot of physical skills and talent. But physical talent alone does not guarantee success in football or in any sport. A strong mental game combined with physical talent and high motivation helps athletes succeed in sports.
What makes a big-time quarterback is his ability to excel at the mental part of the game. A quarterback has to have the ability to anticipate and respond quickly to opposing defenses. He must also have the composure to stand in the pocket when it's being invaded by 300 pound defensive linemen.
During the NFC championship game Hall of Fame quarterback Troy Aikman said out of all the big name quarterbacks in the league he would want Aaron Rodger as his quarterback because he has the mental toughness to compliment his physical talent. Rodgers showed this in the NFC championship game, leading his team to the Super Bowl with a 21-14 win over the Chicago Bears.
"It's an incredible feeling," said Rodgers, "We've gone on the road and won three tough games against three tough opponents … road warriors."
When asked how he would prepare for the biggest game of his life Rodgers responded, "I think the key is to be able to focus on your preparation.  You can't let the other distractions and the magnitude of the game take you away from what you need to do next. You need to show up prepared to play, expect the unexpected, and know exactly what you are going to do," said Rodgers.
Going into the game mentally prepared and focused with a plan will help Rodgers to know exactly what plays to run, and which audible to call versus each defense that face.  When your mind is prepared, and you know what you need to do before hand, it's just execution from there.
Visualization is the ability to create clear, detailed and accurate images in your mind of events that you want to create as physical reality. There are visual triggers that help quarterbacks recognize which type of defense he should expect. Some of the triggers will be the personnel packages that he sees. If the quarterback is mentally prepared for this situation he can anticipate what defense he will see, and call and audible if necessary.
For example, let's say the play call is a run. If the quarterback sees double coverage on his left, and the other safety is supporting the run. He knows that his receiver is in single coverage on his right.  When he visualizes the play if he feels that receiver in single coverage has an advantage. He can change the play to a pass.  This part, the mental game separates the physically gifted college quarterbacks from the real pro prospects.