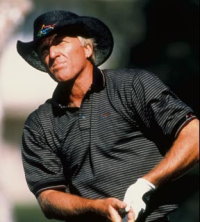 Golf courses are designed to challenge you every stroke with the presents of water hazard, sand traps, tree-lines, and rolling greens. Golfer who are not prepared for these obstacles, are unable to make key decisions, which can lead to mistakes. To be successful in competition you should focus on playing the course, rather than your opponents. Golfers who take this approach understand the important of course management.
Many golfers view course management as a strategy to help them get out of trouble after a missed shot or bad stroke. Smart golfers view course management as a strategy that helps them make effective decisions, avoid obstacles, and prepare for each shot.
Professional use course management to seek opportunities, play around the obstacles, and avoid trouble by placing each shot in the best position to execute the next shot. Effective course management requires you to mentally prepare and focus before every shot. You should develop a pre-shot routine for effective course management.
A pre-shot routine will help you mentally prepare for the challenges each hole presents. It is important to trust your preparation and commit to your  pre-shot routines. This will allow you to be more patient in your approach so you can make smart decision.
Most golfers utilize a physical routine (i.e., practice swing and set up), but far too many golfers neglect the use of a mental routine. Using pre-shot routines will help you focus on one shot and are extremely useful tools to help you stay focused on important performance cues during shot making. Although they complement each other, your mental routine is the most important part because it includes the decision making and confidence building skills that are critical to a successful shot and consistent performance.
The important elements of a pre-shot routine include commitment, confidence, focus, and trust in your skills one shot at a time. These are universal, no matter what the sport or the task. The following summarizes the important elements you want to integrate into pre-shot routines in your sport. By committing to your pre-shot routine your performance will become more consistent enhancing your confidence.
Also, your routine will help you focus on the present task and help you trust your ability to execute one play at a time. Professional Golfer, Greg Norman, understands the elements of a pre-shot routine. "I have been using the same routine for many years. It helps me set up the same way every time," said Norman, "I set my clubface down on my target line and set-up my stance around where the clubface is aimed."
You'll need to combine the physical actions of the routine (such as a practice swing) with specific thoughts, images, or feelings (visualizing the shot, focusing on the target, and mental cues to trigger the start of the swing) that instill confidence and trust in your execution. Your routine will help you be more confident, focused, and in a trusting mindset when you perform. For effective course management, it is important to remember the following points about pre-shot routines:
• The goal is to help you execute a confident shot, not have a perfect routine. If you worry about completing a perfect routine you are more concerned with executing your routine than the shot.
• Be mindful of the phenomenon of "going through the motions" without mental intensity. As a routine becomes more habitual, it requires more discipline on your part to stick to or apply the mental aspect.
• Anytime you change your physical or mental routine, be sure to practice before putting it into action in tournaments.
• Run through your pre-shot routines in the warm up. Use the last four or five shots and putts to establish the rhythm of your routine before heading to the first tee.
• You'll want to tap into your dominate learning style in your routine. Most people are a combination of visual and kinesthetic performers. However, you'll discover one mode of learning that may help program you better.
• Be careful not to judge your pre-shot routine or make any associations to the outcome of the shot. Completing your routine does not guarantee a perfect shot and failure to complete your routine is not always the cause of a bad shot.
Remember, the purpose of a pre-shot routine is to help you prepare your mind and body for successful execution, not for the sole purpose of completing a perfect routine. Use a routine that works best for you and apply it first in practice. Establish a routine well before competition starts instead of searching for one on the course. You first must become comfortable with the thoughts and images of your routine so you can then focus your energy on performing your best.