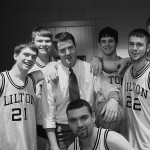 As the coach you are not alone in supporting your team's confidence. It is beneficial for coaches to identify members of the team that can help boost team confidence and promote success. Once you identify players with leadership capabilities have the team select or have your team elect a captain and co-captain. Team captains act as a liaison between players and coaches, so they will help you support team confidence. Other players look up to team leaders for guidance, reassurance, and encouragement as they do the coach. In sports team leaders are a valuable team asset you should use to help boost confidence.
Team leaders help cultivate confidence through their leadership qualities, and understanding of what confidence really is. These players maintain a high level of confidence that can spread throughout the team. Ask your leaders to help boost team confidence by giving them the opportunity to help other players gain, maintain, and spread the confidence.
Team leaders are admired and accepted by their teammates. Players who lack confidence will benefit from the support of their team leaders and captains. Players who lack confidence may respond better to the support and encouragement of their teammates as opposed to the coach. To spread confidence it is importance to make it a team process. You must support this process to make your season an enjoyable experience for everyone involved.