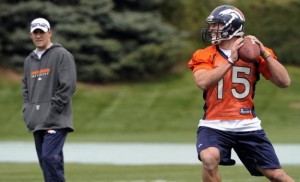 Tim Tebow is considered to be one of the best college football players to ever play the game. He was the first college player to rush and pass for twenty or more touchdowns in a single season, and the first sophomore player to win the Heisman Trophy. He had great success in college leading his team to two National Championships, but skeptics questions his ability to perform in the Nation Football League.
Tebow was drafted 25th overall by the Denver Broncos in the first round of the 2010 NFL Draft. Many scouts and coaches believe this was a risky pick for the Broncos because Tebow lacks the skill set and physical attributes that are demanded in the NFL. "He has questionable and limited arm strength with a slow and ponderous delivery," says NFL analyst Greg Cosell.
However, others believe that changing Tebow's throwing action will do more harm then good…
After watching Tebow perform in preseason, Hall of Fame Quarterback, Troy Aikman stated that, "Tim in no way shape or form should change his delivery." Hall of Famer, John Elway supports this notion stating, "When throwing the ball down the field, a quarterback should stick to his natural delivery." Changing Tebow's natural delivery would take months if not years to complete based on what I know about motor learning and sports psychology. Experts say Tebow does not throw the ball conventionally because of his arm is very low on the take back. But I have to agree with Elway on this…
When you make changes in technique, which is well-learned, it can lead to lower confidence and trust in the short term. I do think long-term you can improve your technique. But changing your motion can cause you to over-analyze your technique in competition and search to key to good throws. A key aspect of Tebow's ability to perform relies on the trust he has in his ability to naturally deliver the ball down field without needing to over think his technique.
What's the problem with changing Tebow's throwing motion? When you change a well-learned skill, his performance will suffer in the short term depending on how drastic the changes. You have to unlearn or extinguish the old motor pattern as you replace it with a new method. This is why changing your technique is harder to do than learning something new from scratch.
I'm not saying that changing your method or technique is wrong. You'll find advantages and disadvantages depending on how big the changes you make are and how fast you can make them. Tiger Woods seems to be very successful at making swing changes quickly (with new coaches) over his career. In his case, he can assimilate the changes rapidly and regain his trust quickly.
But changing Tebow's delivery at the start of the football season when he is trying to establish himself could be fatal for his career. However, you might argue that this is the best time to change his motion because he's in a backup role. This gives him the time to make the changes and regain his confidence and trust.
To perform in the zone, a quarterback's throwing motion has to be well-learned and a reaction. Some experts use the term unconscious competence to describe the level of automation or reaction you need to let it happen and not over think your method. Using his natural, well-learned delivery will help him develop into his role in the NFL.
If you do overhaul your method or technique or change your coach who has a different philosophy, follow these suggestions:
1. If you can, make any big changes in technique in the off-season when you have time to regain confidence and trust in your method.
2. During the season, make small changes, one at a time, that are easier to assimilate and become well-learned without hurting your performance or confidence in the short term.
3. Be patient for the changes to become well-learned and easy to apply. It can take months if not years to make an overhaul of your technique. Change doesn't happen overnight. Set process goals in practice to help you build your technique. Process goals are small obtainable objectives that will help you gain confidence in your method and apply changes to your performance. 4. Work diligently on making changes in practice, but don't over-think or over analyze your method when you perform in competition. In other words, resist the tendency to practice your motion in competition.
5. Get help from your coach or use a source of feedback about your changes, such as a video, to help you make the changes faster. Don't just go by feel as this can be deceptive. To help you make adjustments to your technique, study the technique of elite athletes. You can also tape yourself during practice or games to evaluate your progress and highlight areas you need to improve.
6. Be open-minded to instruction and feedback. It is difficult to make big changes in technique on your own. When making a change is it important to learn from feedback and advice, rather than take it personal. Outside sources such as coaches, trainers, and teammates can help you if you let them.
7. Avoid over-analyzing your technique or thinking too much about the changes you made when in competition. Try to trust the changes and let it happen instead of practicing your method in competition.
8. Practice in a way that mimics how you compete, not just to perfect technique. For example, use your full batting routine or preshot routine in practice. This will help you develop trust during training so you can transfer that feeling to competition.
Want more tips to help you stay in the zone longer and boost your mental game?