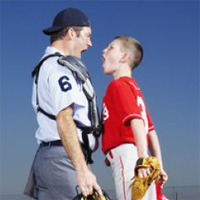 As coach it is crucial that you prepare for every obstacle and setback your team may face throughout the season. Seasons never go completely as planned. For example, coaches needs to anticipate the game conditions, the weather, injuries, and player distractions. Successful coaches anticipate these obstacles and have a strategy for coping with setbacks.
Some people may argue that anticipating setbacks is not a very positive way to mentally prepare for competition. But like I previously stated, nothing ever goes according to the plan in sports.Your team must be prepared to roll with the punches and make the necessary adjustments in their game plan.
Mental preparation and communication are keys for coaches and athletes to cope with the ever changing circumstances of a game. At the start of the season when you are establishing your team goals and objectives for the year make sure to create another page that deals with the unexpected. This way when a challenge occurs, your team is prepared to overcome it.
In the face of comebacks, distractions, setback, and upsets we teach our athletes to use the three R's strategy. Recognize, regroup, and refocus. By using the three R's strategy athletes are able to recognize the challenge, regroup, make the appropriate adjustments and refocus on the task.
For example, when the umpire suddenly changes his strike zone the three R's will help preserve your teams confidence, focus, and control of the game.
First, your athletes should RECOGNIZE that this is an uncontrollable situation and rather than continue to dwell on it –they need to adapt. Worrying about the umpire is only going to hinder their performance and distracted them from executing successfully.
Next, they need to REGROUP. The pitchers should correct their strike zone to fit umpire's zone and hitters should make the adjustments necessary to protect the plate. Tell your athletes to take a deep breath and keep their heads in the game. At this stage athlete need to let go of the things they can't control, in order to maintain focus and composure.
Finally your athletes need to REFOCUS and concentrate on the task at hand. Pitchers need to refocus on throwing strikes, and hitter's need to refocus on the execution of their at-bat. Teach your athletes to use performance cues and triggers to help them refocus. For example, a low strike zone cues the catcher to set-up low and cues the pitcher to focus on hitting his target to help him throw strikes. A smaller strike zone cues hitters to see a strike, be patient, and wait for their pitch.
When these situations arise, it is important that you communicate to your team. Remind them of a similar situation they have experienced before. How did they deal with it? What did they do right or wrong, and what did they learn that will help them now? Say something like, "we anticipated this possibility and we have a plan," to help them remain confident and goal oriented. Proper mental preparation is the key to overcoming these adversities.
For more mental game coaching tips visit Mental Edge Athletics.