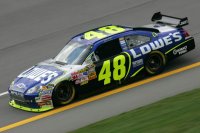 Winning championships are what all competitors and teams strive to attain each season. Repeating a championship from the previous year is even harder to attain. But to do so, you need more than physical talent. Confidence, focus, and patience are just a few qualities that separate championship teams from other contenders. And winning coming down the stretch of a long season takes courage and mental toughness.
If the Sprint Cup Chase is NASCAR's version of playoffs in professional sports, then Jimmie Johnson should be considered one of the greatest athletes of all time. With is second place finish at the end of September, Johnson moved into the top spot of the Sprint Cup Chase making a strong run for his 5th consecutive championship. Johnson doesn't hold a huge lead but as history has shown he is one of professional racing's most competitive drivers who knows how to win at the end of the season.
There are 11 other drivers still in The Chase for the Sprint cup, and Johnson knows that he needs to take one step at a time to win. When asked if he has entertained the thought of what it would mean to win a fifth championship he responded, "No, that would be foolish. It is way too early to think about those things. Way, way too early." Johnson's has been in this position before, and he knows not to get ahead of himself with plenty other drivers looking to knock him off his perch.
With the four time defending champion in the lead many people feel that Johnson has a mental advantage over his competitors, who may already feel defeated. With 7 races to go, Johnson understands that nothing is a guarantee in sports. "All I can do is worry about my team, and what we have to do," said Johnson. "Again, it's early. I'm not worried about who is leading the championship right now. I know we came in second. Of course, I wanted to be leading." Johnson is focused on winning each week, rather than the championship with several races to go. He wants his team to concentrate on what they can do each week to be successful.
To finish strong, they must focus on one race at a time, which is a great lesson for any athlete. With 7 races before all is said and done, you can't focus on the other competitors. "I could care less where the other 11 drivers were today. It's just not time to worry about that stuff," said Johnson.
Johnson knows that all 12 racers are going to give it their all, so he is going to make sure he and his team prepare for each week, one race at a time. "After Talladega, teams and drivers can work on a strategy of protecting [the lead] or taking chances. We have to get deeper into the Chase to be concerned about who the point leader is," said Johnson. Five straight championships is a dynasty in any sport, which would mark Johnson as one of the greatest athletes of our time.
Tips for a Championship Focus
1. Focus on one game at a time. Good results flow from focusing on the process. It doesn't help you perform well today by thinking too far ahead about the possibilities of winning the championship. Thinking about the big picture can only induce more pressure.
2. Season-ending goals are good to have. Most teams in NASCAR have the goal to win the Sprint Cup. But you reach your goals by focusing on your preparation for each competition, what you learned from the last competition, and how to improve for the next competition. You don't want to dwell on the end goal especially when you have seven games or seven races to go.
3. Focus on your stuff not the leader of the championship race. You should not compare yourself to other teams or competitors and what they have that you don't have. Instead, focus on your strengths and make any adjustments you need each week or each competition to improve and get the most out of your ability or your team.
4. Have patience in your team. You don't want to panic at the end of a long season if you are behind the leader. Championship teams do not lose faith in their organization when they have an off week.
5. When you're in the lead, keep your foot on the gas. Some teams tend to protect their lead and thus play too safe. This can give other teams or competitors the momentum they need to overtake you.