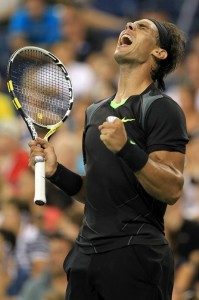 Before the U.S Open, ESPN tennis analyst Brad Gilbert stated that "a win in New York gives Rafael Nadal the best season ever by a man." On September 12, Nadal did just that, becoming the first player since Rod Laver in 1969 to win three consecutive Grand Slam titles. However, winning in New York wasn't an easy feat for Nadal. He's the No. 1-ranked player in the world, but until Sunday, he had never reached the final of the U.S. Open."It's one of the most important tournaments — for me, probably the most important," said Nadal.
When asked to assess his chances of winning Nadal stated "I'm number one in the tournament, but number one doesn't always win. I needed to makes some adjustments in my approach to prepare for this tournament."Nadal knew in order to win this tournament he needed to focus on his mental game and execution.
The courts at the U.S. Open have presented problems for Nadal in the past. "I just feel on average the U.S. Open could be the fastest Grand Slam, yeah," Federer said. "That could be one of the problems for Rafael here." Nadal made a few adjustments in his game to play more aggressive and keep up with the speed of the U.S. Open.
"I think the balls are faster here than they are at Wimbledon," said Federer. "You can really hit through the court if you play aggressive here." To prepare for the tournaments Nadal set process goals to help him play more aggressive and closer to the baseline. This style of play isn't Nadal's natural approach, but using process goals to help him improve his balance, footwork, grip, and speed on the baseline he was able to master this technique.
Nadal could feel the pressure amounting with each win at the U.S Open. After his win over his win over Fernando Verdasco he stated that "The only way of finding a solution is to fight back, to move, to run, and to control that pressure." In each of the seven matches at the U.S. Open Nadal played continuously more aggressive.
He knew that if he continued to play aggressive and focus on his execution he could control the rhythm late in rounds. "Now I can change the rhythm. I can play a slice backhand. I can serve, win a little bit more free points with the serve, and I can play more close to the baseline. So the position on court improved, the slice backhand improved, and it was important shot for me to stop the rhythm of that player."