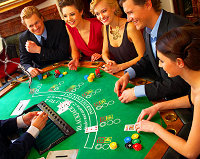 This article is intended for readers age 21 and up.
The game of poker is considered one of the best examples of a psychological game. Elite players in the game understand the impact of psychology on the game and on their opponents. The biggest element in gambling psychology that poker players use to their advantage is manipulating or taking advantage of their opponent's fear. Today we will talk about how athletes can use their opponent's fear to their own advantage.
To understand the concept of fear as related to gambling, we have to look at what poker players are afraid of. The biggest fear that a poker player has at the table is the fear of going broke or busting out of the game. Games like No-Limit Texas Hold'em put added pressure on players as they can potentially bust out in a single hand.
In addition to busting out, players also have a fear of being outplayed or being embarrassed at the poker table. No two poker players are alike and no two players play the game in the same way.
If a person is not confident in their abilities or thinks that another player is better than them, it can cause concern that they will make a mistake and cause them to look bad in front of the other players.
Poker players take advantage of their opponent's fear in poker by making certain moves against a player and putting them to the test. Many times, these moves are pure bluffs designed to capitalize on a player's fear of looking bad or of busting out. Other times, a player may make an unusual bet in hopes that a player will be afraid of being bluffed and they will call the bet.
While much of what we have already talked about applies to playing poker, it can be modified to any type of sport. Think about what your opponents fear on the field. Obviously they fear losing the game. They also fear being outclassed or being outplayed on the field. In sports, you have also the added fear of injury on the field and not being able to continue playing.
Considering these fears, you can adjust your play and your strategy to compensate. For example, if you are playing baseball and your opponent has the shift on to prevent the long ball, you may just have your player try to hit to the opposite field or even bunt if they have the speed to beat the throw.
Football in the final two minutes is a great example of how a team can take advantage of a fearful opponent. Many teams employ a prevent defense that is designed to cut off the deep pass, but will usually sacrifice short yardage plays. With enough time and time outs left, you can carve apart a prevent defense.
Fear can be a very powerful psychological tool to use against your opponents. Gamblers that play casino games have been using their opponents fear to increase their winning for decades. By taking a page out of their play book and adjusting your play to take advantage of your opponent's fear, you can give your team a psychological edge that may help propel you to victory.