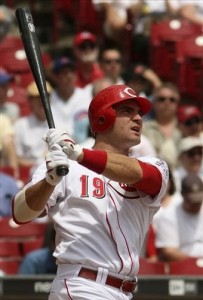 Being in the lead can present some mental game challenges. Some players, and even teams, try to protect their lead so they don't make mistakes. This can cause you to over control your performance, try too hard, think about the results and play tentatively. Other players become complacent with the lead and allow the opposition to make a comeback.
Some teams struggle with closing out the game because of a comfort zone. A comfort zone is based on an expectation about how you think you should perform. You might expect to lose to a certain team or win by a lot of runs. When you are playing better than expected, you start to protect your lead and avoid making mistakes.
The Cincinnati Reds had trouble closing out their lead over the St. Louis Cardinals in a recent game. Joey Votto helped the Red's close out the game after blowing a four-run lead. Votto homered and had four hits to contribute to the 9-8 win over the Cardinals.
"I wouldn't use the word nerve-wracking, but I think this year we've proven to other people and proven to ourselves that no lead is safe. We have to respect the opposition and play hard all the way through nine innings," said Votto.
When you have a lead, continue to play aggressively. Set a challenging goal to help you play more aggressively. You might focus on hitting your spots as a pitcher or swinging freely as a batter. The key is not to back up and try to avoid making mistakes. If you think too much about mistakes, you lose focus on what you want to do. Focus on execution rather than the results.
To avoid becoming complacent, go through your routine with full intensity and focus. A common mistake players make is they go through the motions without full focus. You want to keep your intensity and focus at a peak level when you perform. You can always restart your at-bat routine if you feel distracted or not fully engaged.
Your baseball psychology tip is to keep playing hard and playing aggressively. Abandon your expectations and focus on execution instead. Follow your pre-pitch routine with full intensity to avoid becoming complacent.