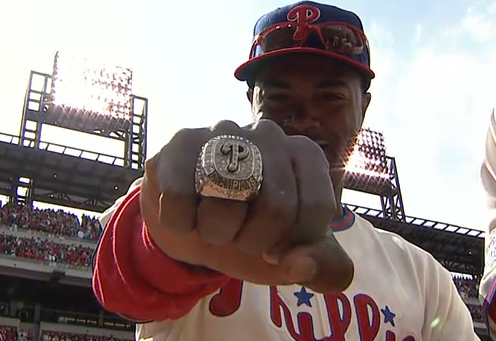 As the hunt for a division championship and playoff spot begins to heat up every game counts Philadelphia Phillies. The Phillies made two consecutive World Series appearances in 2008 and 2009, but currently trail the Atlanta Braves by 2.5 games in the National League East. Philadelphia is starting to make their run, winning 20 our 25 games, and manager Charlie Manuel is confident in his team ability to continue winning big games.  "When there's a lot of focus on our team, we rise to the challenge, this is when we really like to play," said Manuel.
Phillies Shortstop Jimmy Rollins thrives on the pressure of big games, "When the pressure is on, I definitely show up to play," said Rollins.  "The pressure motivates me to bring my "A" game night after night." Elite athletes have the ability to raise their level of the performance however, playing in big games can present several mental game challenges for many athletes. Unlike Rollins, players become nervous, distracted, and lose their focus when competing in big games.
To perform at your peak potential in a big game you must embrace the pressure, stay focused, and play with confidence.  Rollins and the two-time National League champions do this simply by playing their game and getting every player involved. "Being involved means giving it your all and helping the team win," said Rollins, "You'll have to be at the top of your game mentally and physically to compete."
Rollins uses pregame routine to stay on top of his game mentally. "My pregame routine help me get in the zone before a big game," said Rollins. To help you cope with the pressures of a big game develop a consistent pregame routine. A pregame routine will help you focus your mind, feel confident, trust in your practice, and maintain the right mindset before competition. During your pregame routine, remind yourself to trust your ability and your confidence in your team.
It is important to focus on your game not your competitors. "When games are competitive and intense we stay focused and play our game, just like any other game," said Rollins. Focusing on your competitors typically causes you to make negative comparisons, which can undermine your confidence. Instead, you should focus on your strengths, and the process of winning.  Before a big game avoid thinking about the outcome or end results. Athletes who focus on the end result lose focus on the process of winning, which limits their performance. Remind yourself that focusing on results will not help you perform your best.
Some athletes lose trust and tighten up in the big game. This can cause you to over control your performance and not play freely. You want your performance to just happen, without thinking too much about "how to" execute your skills. For example, a batter needs to react to the ball instead of think about how to make a good swing. Simplify your thoughts and focus on performance cues that you execute for example feeling balanced in the batter's box. Avoid thinking too much about your technique trust the skills you learned in practice.
Overall, you want to treat the big game as any other game. You don't want to place too much importance on one game, which can lead to added pressure, a lack of focus, and trust in your game. Focus on what you do best. The Phillies have won 20 of 25 and moved two games ahead of the Giants in the wild-card race. The Phillies remained 2½ games behind Atlanta in the National League East