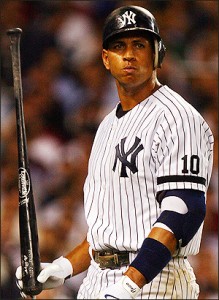 In game 1 of the American League Championship Series, the Texas Rangers broke out to a 5-0 league over the New York Yankees. After six straight shutout innings the Yankees looked as if they were ready to throw in the towel. Their offense was sleeping, and starting pitcher CC Sabathia couldn't find a solution for the Rangers offense.
 Then the Yankees remembered that there are 27 outs in a game, and this was October baseball.
Former Texas Ranger Alex Rodriguez stated, "They're pitcher was rolling, but the last six, nine outs are the toughest to get. We just race our race and play our own game. We know one pitch to another can change the momentum. They have got to get 27 outs, and until that last out is recorded, we have the utmost belief that we are going to win every game."
With bases loaded no outs Alex Rodriguez was confident in his ability to put the ball in play. "You don't worry about what's going to happen," said Rodriguez. "That's a hitter's dream; bases loaded no outs and nowhere to put you. I felt confident that if I got a good pitch to hit, I would hit it hard somewhere." Rodriguez did just that hitting a key single that scored two runs. With just one swing of the bat the Yankees were back ready to play hard and finish strong.
"We always say we have 27 outs," said Robinson Cano, who had three hits and two RBI for the Yankees. "We always know we have a chance." And a chance is all they needed. With runners in scoring position and confidence spreading throughout the dugout, designated hitter Marcus step delivered a hit scoring Rodriguez for the 6-5 go ahead run.  "We were down 5-0 but we never give up," said Thames, "We knew they had to get 27 outs to beat us, so we just kept going after it."
Yankee Hall of Famer Yogi Berra's famous quote, "It ain't over till it's over," is a motto this organization lives by, and it stands true in all sports. As long as there is time on the clock anything can happen. That is why it's important for athletes and teams to give it their all and leave everything out on the field. It is easy for teams lose focus and take themselves out of the game when trailing from behind, but if you stay confident in your team's ability to come back, you always have a shot.