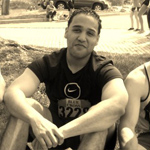 Athletes and those who have the potential to become one suffer from the same issues as the rest of the population. One of these being laziness. It's true that despite how motivated an athlete can appear, they suffer from a bad case of the lazy just as much as the rest of us.
The difference is, an athlete has methods to help themselves through it. They have ways to distract themselves from their day to day pleasures like playing partypoker and staring into space, that are effective enough to keep them on target. So if you are having issues fighting your own laziness, here are a few ways you can conquer it.
Passive or active? – Dependant on the mindset you've grown up with, you may be either a passive or active person. If you are passive, force yourself to become more active. Say yes instead of no. Get up out of bed instead of laying in etc.
Deadlines – Sometimes it helps to give yourself a deadline. Like if you want to be running for a certain amount of time by the 2nd September, you set yourself that deadline to achieve your goal, and work towards it. Deadlines can be used for getting up in the morning too. "I'll get up before 9am" etc.
Learned behaviour – It might be the case that your laziness is a learned behaviour from your working and home environments. If you have a lot of time to kill in your job, then use the time wisely doing other jobs. You'll be training your mind to think pro actively, which will help with your physical training.
Routine – Start an exercise routine and stick to it. You are far more likely to stick to it because it becomes the habitual norm. Get up at the same time every morning and go for a jog.