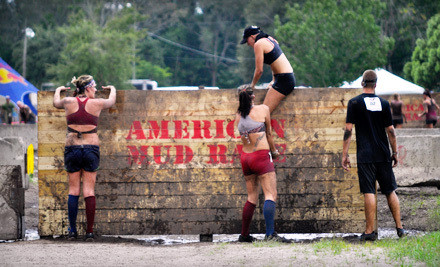 Our partners at American Mud Race have a special running on Groupon for their March 30 mud race in Orlando, FL.
Their designers put together a 3-4 mile course packed with crazy obstacles that will test your mettle, challenge your strength, and leave you covered from head to toe. If you're tough enough to cross the finish line, a serious after party awaits.
"Fun is the name of the game," say American Mud Race Co-Founder, Christopher Pixley. "But we've also got a greater purpose. American Mud Race will benefit wounded veterans through the Home at Last Project by Habitat for Humanity."
We encourage anyone who lives in Central Florida or will be visiting at the end of March, take some time to check out their web page and learn what American Mud Race is all about.
If you're up to the challenge, you can register for the American Mud Race for 51% off until midnight tomorrow (1/27/2013) using the link below:
Registration for One or Two to the Mud Race at Bithlo Motorsports on Saturday, March 30 (51% Off)
If you miss the special you can still sign up for the race at: