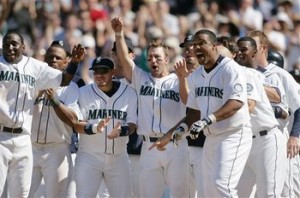 On August 10, 2010 the Seattle Mariners displayed incredible teamwork by turning a 5-4-3 triple play in a 3-1 win over the Oakland Athletes. "Great things happen when a team comes together on a play like that," said Manager Daren Brown, "This is what it's all about, winning is a team effort." Coach is right, competing with your friends and working together is what baseballs all about. Baseball is a sport that challenges athletes to perform as individuals and as a team.
Each player on your team has specific roles such as, the lead-off hitter, the clean-up hitter, the pitcher, or the catcher. Your ability to execute your role is important to your team's success, but more importantly is your team's ability to execute as a unit. Are the pitchers and catcher on the same page? Are there runners on base for the clean-up hitter? Can the middle infield turn two? How well players work together highlights a team's performance, not how well they play as individuals.
Before the triple play third baseman Jose Lopez made an error that could have cost the Mariners a run. Rather than criticize him or put him down his teammates were ready to pick him up. Later in the game with runners on second and third Lopez took a hot ground ball at third and stepped on the bag for the force-out. Lopez then threw to second baseman Chone Figgins for the force at second, and Figgins threw to first baseman Casey Kotchman for the final out.
"We are friends and teammates so this helps us click on the field," said Kotchman on the Mariner's infield. Teamwork is something that can be developed on an off the field. How well you get along with your teammates off the field is significant to how well your team will perform a task off the field.
Want more tips to help you stay in the zone longer and boost your mental game?