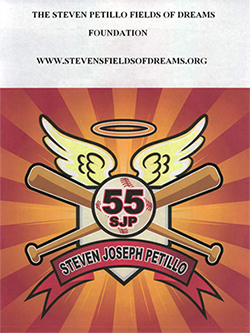 Steven Joseph Petillo
Steven was our little 9 year old Superstar. He loved Baseball (both playing it and watching his Yankees). He loved to pitch and was a natural at the game he loved.
Steven was taken home to heaven on Aug. 16, 2010, while our family was heading on a vacation to Busch Gardens, VA. until we were sent out of control on the I-95 after being hit by a reckless driver, sending us down a 45 ft. embankment. Our little man died instantly upon impact when our mini-van hit a tree at some point while tumbling down the embankment.
Steven was the only one to perish in this tragic accident, God must have needed an angel with a contagious smile and a giving heart. We will never forget our little man, our hearts ache more & more each passing day, & our tears flow like fountains. We will always LOVE you & keep you forever in our hearts & in our family.
Till we all meet again little man…
In Steven's memory, since he loved the game of Baseball so much, and enjoyed helping everyone, THE STEVEN PETILLO FIELDS OF DREAMS FOUNDATION, INC. has been created.
Mission Statement
The Steven Petillo Fields of Dreams Foundation, Inc.
THE STEVEN PETILLO FIELDS OF DREAMS FOUNDATION is being formed for purely charitable purposes. Its mission is to sponsor local children that cannot afford to play Little League Baseball, as well as to purchase new equipment for local Little Leagues in communities throughout New York, also, to sponsor the challenger divisions for mentally, and physically challenged children that play Little League throughout communities in Queens, as well to sponsor any type of after school baseball programs throughout District 26 in Queens, New York. Every child has the right to play and participate in the game of baseball regardless of financial ability, or physical, mental abilities. With compassion and commitment, THE STEVEN PETILLO FIELDS OF DREAMS FOUNDATION will accomplish this by sponsoring and advocating with, international organizations and local communities as partners. Together we will help positively impact the lives of children that are looking to become more physically active and involved in the game of Baseball. We will help to build strong programs for them as well (i.e. winter Baseball clinics, after school programs, etc…..) by promoting and supporting existing programs. With our commitment and support we will also seek to create our own programs as part of our long term goals to benefit the children.
We have just sponsored 65 challenger children this Spring who are still playing for about 3 more weeks, the smiles on their faces are priceless, and I see my Steven through the eyes of every one of these children. We are also sponsoring a team of 12 children going to Myrtle Beach to play in a Cal Ripken Tournament this July in memory of Steven.
Please go to our photo gallery on our web site to see some of the children that are benefiting from the FOD FOUNDATION @: WWW.STEVENSFIELDSOFDREAMS.ORG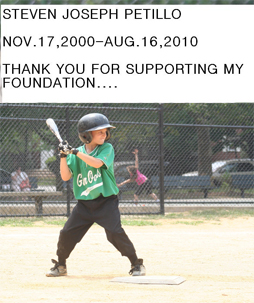 …Baseball was my son's passion in life & helping others, so with his Foundation we will help Steven live on through his two most important things in life his love for the game, & helping other children.
Any donations can be mailed to:
MICHAEL PETILLO
C/O: THE FIELDS OF DREAMS FOUNDATION, INC.
86-35 257TH STREET
FLORAL PARK, N Y 11001.
Thank You for your time & consideration,
Michael Petillo
President
The Steven Petillo Fields Of Dreams Foundation, Inc.