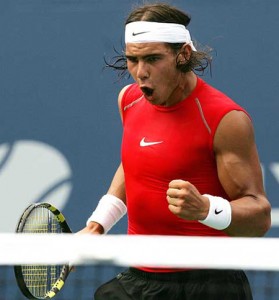 To compete at the top of your game you need to have confidence in your ability to succeed. Number 1 ranked tennis pro, Rafael Nadal understands the importance of confidence to win tournaments and succeed in tennis. "I rely on my confidence to help me win," said Nadal, "You have to be confidence to play well on match days."
Having confidence offers you an advantage over your competitors because confident athletes play more relaxed, focused, and aggressive. Nadal knows that if he doesn't confident on match day he is at a disadvantage. "I am not playing good this week because I lost a little bit of confidence about me…There are moments when you don't have the confidence you need and it affects your performance," said Nadal.
To maintain confidence you must develop a mental toughness that will overcome adversity, setbacks, mistakes, and accept defeat. "You have to accept when you don't play well and somebody else does," said Nadel. Take time to cool down after a loss and focus on the positives aspects of your performance.
Accepting when you do not play well will help you maintain confidence, learn from your performance, and grow as an athlete. Dwelling on mistakes or setbacks will decrease your confidence, which may cause you to play tentatively and indecisive. When you are confident you are more likely to play aggressively, which Nadal feels is vital to winning in tennis. "When I am confident I play a bit more aggressively which is a decisive factor during matches," said Nadal.
To ensure that he has confidence going into a match Nadal prepares physically and mentally before competition. "I played for four hours today so I'm a bit tired but I'm confident I can win." Practice will help you gain confidence and competence in your sport. It is important to trust your training and preparation in practice to maintain confidence during competition. Give 100% during the match and leave it all on the court.
Want more tips to help you stay in the zone longer and boost your mental game?