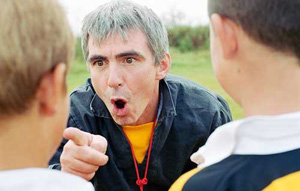 Coaches usually coach the way they were coached and unfortunately, not enough people understand that fear does not work longitudinally as a motivational strategy (anymore than having athletes run sprints for punishment does – you want to change an athlete's attitude, take away their opportunity to play).
Having worked with athletes and coaches with he widest array of anger problems for twenty years, I can tell you that this problem is no better now than then. Thankfully, more people are talking about it…but not enough parents and leagues are removing abusive coaches from the opportunity to influence kids.
Anger is not the problem in sports – the problem lies in how much anger is experienced and whether it helps or interferes with performance.
I present on these topics regularly and consult with leagues, schools, coaches, parents and athletes.