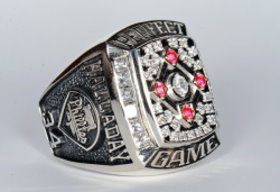 Over the years, Phillies ace Roy Halladay has built the reputation of being a machine with incredible work ethic, but his career didn't start out this way. In 1995, he was drafted first round by the Toronto Blue Jays.  In 1998, he made his first Major League start, and carried a no-hitter into the 9th inning against Detriot, unitill Bobby Higginson hit a solo-homerun with two outs.
Halladay's talent was obvious, but mental barriers such as low self-confidence, lack of focus, and a fear of failure kept him from reaching his potention on the mound.  In 2000, Halladay set the record for highest ERA ever, among MLB pitchers (10.53) with a minimum 50 innings pitched. His performance continued to slump so the Blue Jays cut Halladay from their major league camp the following spring.
He was being demoted, not just to the minors, but all the way down to Class A. His self-confidence was already in tatters from a terrible spring and he took the news as would any 23-year-old with a wife and a newborn son. "He had terrible results on the field and I don't think he was feeling too good about himself away from the field," said Gord Ash, now an assistant GM with the Milwaukee Brewers.
While in the minor leagues Halladay found a sports psychologist to help reach his performance goals. He worked his way back to the Major Leagues, and finished the season 5-3 with a 3.16 ERA, leaving five games with leads that were blown by the bullpen. The following season, he went 19-7, but couldn't quiet the nagging fear that his success could end at any given time. One day sport psychologist Harvey Dorfman showed up at a Blue Jays game.  Halladay introduced himself to Dorfman and asked him for advice about his fear of failure. The thing about Roy," Dorfman says, "is he knows how important the mental aspect is to performance. And he knew he was, for lack of a better word, unsophisticated about it."
Dorfman consulted with him, and gave him his book "The Mental ABC's of Pitching," which covers 80 separate topics from A ("Adjustments" and "Adversity") to Z ("Zeros"). The Mental ABC's of Pitching is a book Roy re-reads every day at his locker, to help him focus on the good and not the potential bad. "His whole mantra is, 'One pitch at a time,'" Halladay said of Dorfman, "and he helped me get to that point. Different things might come up and distract you or complicate things, but the bottom line is being able to go out and go pitch-to-pitch."
Dorman helped Halladay develop a mental game plan that calls for repetition of mental skills in his daily routine, and replicating what he did when he was successful. "All pitchers have a set routine, but he may put himself in the so-called 'zone' a little longer than most people. On days he pitches, he's pretty locked in," said Roy Oswalt. Halladay's routine also gives him something to fall back on should things go wrong, which is why he is able to go the distance whenever his team needs him too. Veteran Pitcher Jamie Moyer is the oldest active player in the league, and has never seen anything to compare with Halladay's ambitious pursuit of excellence."Every waking moment, from what I know of him, is focused on his job or preparing for his next start. He's here for a purpose, and that's to win baseball games," said Moyer.
Halladay's ability to immerse into complete concentration on the mound was evident in his perfomance  during the 2010 season. Halladay threw a perfect game against the Marlins and in his post-season debut he threw the second no- hitter in Major league postseason history. This earned him a spot in the record books as the first pitcher in MLB history to throw a perfect game and a no-hitter in the same season.
When asked how satisfied he was with his accomplishments Halladay replied, "Complacency is something that can make you peak. If you can avoid that, you'll always feel like you have something else to reach for and go for. As long as I can avoid that feeling of being happy with what I've done, that's the fun part."
In the Major Leagues it is tradition for pitchers to take care of their catchers, after a no hit performance. Halladay fulfilled his obligation by giving catcher Carlos Ruiz a ring with the inscription, "We did it together. Thanks, Roy."  "It really is about the team for him," said Phillies GM Ruben Amaro. "He truly believes in 'we' rather than 'I'."
Edited by: Christopher M. Jackson