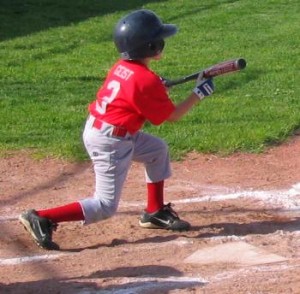 A baseball coach's behavior (overt or covert) can have an influence on the attitude and performance of the team coming down the home stretch or an athlete trying to win a game. Having a positive and supportive attitude in close competitions will help your athletes succeed and model the behaviors you want them to learn. Here are some mental game tactics to apply during crunch-time or to prepare for close games.
Stay Composed. The team feeds off your behavior. If you come unraveled in the last two minutes of the game, your players notice this behavior and may too lose their poise or at the very least get distracted. Stay composed or at least model composure to the players even though you may be racing on the inside. This sets a good example for how the team should behave during crunch-time.
Let them play. As a coach, the urge is to coach and "help" the team along at crunch-time by giving additional input or instructions, sometimes beyond the call of duty. This is not the time to over-control your players. Let them play! Have faith that team members have trained well, are well prepared, and know how to get the job done down the home stretch. Resist the urge over-control.
Show confidence. Athletes want to know that you believe in them. This is not the time to berate an athlete for making mistakes. Display your confidence in the team and individual athletes by rewarding what they do well and picking them up after a mistake. This can be either a verbal or non-verbal gesture.
Keep them on task. As discussed previously, a task focus is critical for the players to perform at their peak. Anything you can do to help the team stay on task, let go of the past, or not fret about outcomes, would serve the team well. Define for each player his or her role during crunch-time and exactly what each athlete should attend to. What are the task-relevant cues each player should focus on?
Two-minute drill. The best type of practice is the type that mimics what happens in a real competition. That's why baseball teams practice with two outs in the ninth with the bases loaded. Simulating the demands and distraction present during crunch-time will help your athletes acclimate to these challenges they face in actual competition.