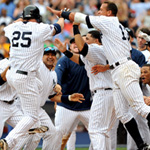 In game 1 of the American League Championship Series, the Texas Rangers broke out to a 5-0 lead over the New York Yankees. After six straight shutout innings the Yankees looked as if they were ready to throw in the towel.
"They're pitcher was rolling, but the last six, nine outs are the toughest to get. We know one pitch to another can change the momentum of the game," said Former Texas Ranger, Alex Rodriguez.
"We always say we have 27 outs," said Robinson Cano, who had three hits and two RBI for the Yankees. "Until they get the last out we always have a chance."
With runners in scoring position, designated hitter Marcus Thames delivered a hit scoring Rodriguez for the 6-5 go ahead run.  "We were down 5-0 but we never give up," said Thames, "We knew they had to get every outs to beat us, so we just kept going after it."
So you're up 4 – 0 and your team is cruising to an easy victory in game one of a three game championship series.  It is the sixth inning and your star pitcher is bringing his A-game.   "Strike one," you glance out at the mound gratifyingly. Then you notice your pitcher rubbing his throwing shoulder with a painful expression on his face.  His pitch count is getting up there, and the trainer suggests you take him out of the game.
No problem. Your bullpen has been lights-out all season, and your captain is coming into close.
One base runner, two base runners, a base hit… the momentum is clearly shifting here. Suddenly it seems like the umpire's strike zone has diminished. The tempo of the game changes quickly. Now even with the lead you and your players are nervous and rattled.
Another base hit, two runs score. Your opponent's bench is empty. Each player is on their feet fired up with new-found confidence, reminded that it isn't over until you get the last out. Yankee Hall of Famer Yogi Berra's famous quote, "It ain't over till it's over," stands true in all sports. As long as there is time on the clock anything can happen. The unexpected occurs all the time sports, and there is no such thing as an easy championship.
Now you face a possible loss early on in a three game series, which can be a devastating factor in your team's quest for a championship. We see upsets occurring regularly in sports today. Your team needs to be prepared to stay focused on the present task, and maintain confidence in the face of an upset. What's more is your team's ability to bounce back after an upset or setback, and respond like champions in the games to follow.
"You can't let the other distractions and the magnitude of the game, take you away from what you need to do next. You need to show up prepared to play, expect the unexpected, and know exactly what you are going to do," said 2011 Super Bowl MVP, Aaron Rodgers.
So what's your next move?  Is your team prepared?  Do you have a plan?